This article is brought to you by Walmart and created by In The Know's commerce team. If you decide to purchase products through the links below, we may receive a commission. Pricing and availability are subject to change.
Air fryers aren't usually the most beautiful kitchen appliances — but Drew Barrymore's are.
The actress and talk show host partnered with Made by Gather's CEO and Founder Shae Hong to launch Beautiful Kitchenware at Walmart in March 2021. While you can probably tell from the name that it makes some pretty great-looking cookware and appliances, it was the brand's sage green air fryer that sold out within 24 hours. After a restock, it sold out again within six weeks.  
While the best-selling air fryer is finally available again, Beautiful Kitchenware is now releasing a double-basket version of it.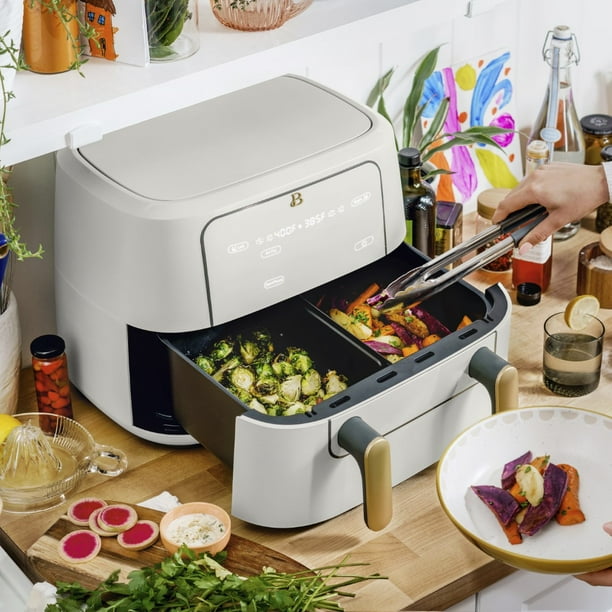 The 9-Quart TriZone Air Fryer allows you to cook two foods, two different ways at the same time. It has one large 9-quart basket, but you can separate it into two 4.5-quart baskets using an included divider. Cook one big batch of something (air-fry a whole chicken!) or slip in the divider to cook your main course and sides separately.
The best part is that if you are using the divider and cooking two different foods at once, you can sync them to finish cooking at the same time.
It's easy to clean, too. The basket, trays and divider are all nonstick (but free of PFOA and PFOS chemicals) and dishwasher-safe.
A few other key points: The air fryer also roasts, bakes, broils, dehydrates and reheats food with the touch of a button. The temperature adjusts from 90 degrees Fahrenheit to 450 degrees Fahrenheit.
You can get the 9-Quart TriZone Air Fryer in sage green or white icing — both are matte. The air fryer also features stylish gold handles and light-up touchscreen buttons.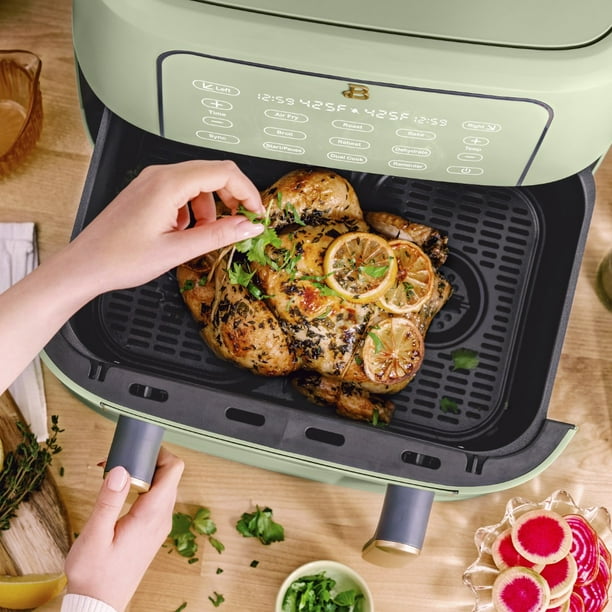 Nevertheless, Beautiful Kitchenware is exclusively sold at Walmart, in stores and online. Anything by the brand would make a great gift this holiday season! However, in addition to its new air fryer, the brand also released an 8-quart slow cooker and an extra large electric griddle.
Alas, Walmart has you covered with everything you need to prep for the impending holiday season, whether you're cooking Christmas dinner or shopping for loved ones.
You can head to Walmart's website right now to check out the entire Beautiful Kitchenware line, available in a fresh, matching palette. Seriously, who wouldn't want to receive a pretty new appliance? 
If you liked this article, check out these easy ways to make your guest room cozier ahead of the holidays.
More from In The Know:
This flattering, under-$30 Amazon dress comes in tons of colors, and it's perfect for spring and summer
Does sitting all day hurt your back? Buy this desk chair support cushion that Amazon shoppers love while it's 25% off
The No. 1 best-selling pillows on Amazon are on sale for just $29.99: 'I slept so good that I didn't hear the baby crying'
8 holiday gifts under $80 for your favorite co-worker
Listen to the latest episode of our pop culture podcast, We Should Talk: