Our team is dedicated to finding and telling you more about the products and deals we love. If you love them too and decide to purchase through the links below, we may receive a commission. Pricing and availability are subject to change.
There are more than a few ways to grill at home, but come rainy days and cooler months, grilling indoors is definitely preferred. This season, you should definitely check out the new Le Creuset Skinny Grill Pan for all your grilling needs. Not only is it a top seller (for a few reasons highlighted below), but you can currently get it on sale for $85 off.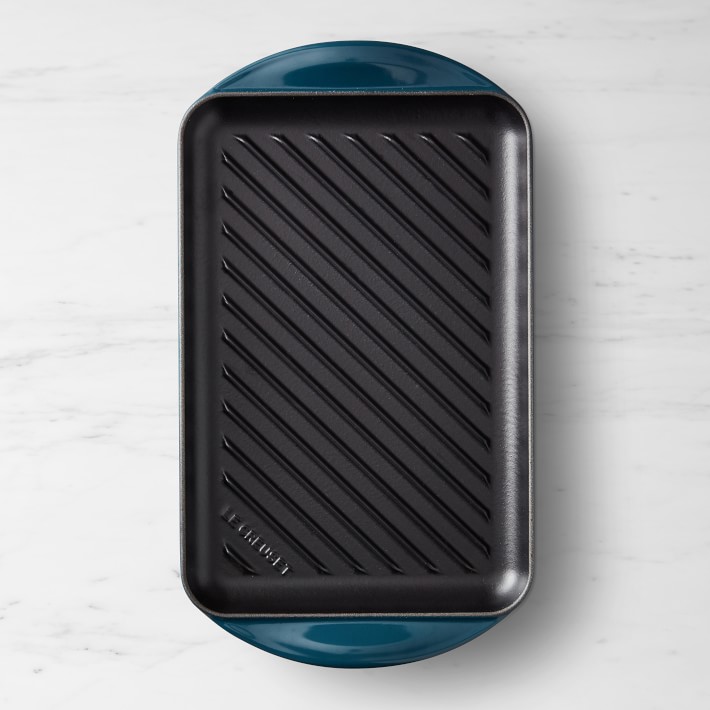 Whether you're a first-time buyer or a Le Creuset collector, the grill pans are a good buy. Using a grill pan is arguably the easiest way to grill meats, veggies and fruits, especially if you don't have space for a full-sized grill. Plus, it's much easier to clean.
The Le Creuset Skinny Grill Pan is small but mighty, and fits over a single burner on the stove. However, it's also safe for ovens, grills and dishwashers. Its cast-iron construction helps to distribute heat evenly and retains heat for the perfect sear.
The skinny grill pan is currently in stock in nine colors, including more neutrals like black and gray, or brights like blue and nectar gold. It regularly retails for $195, but you can get it for $109.95, which is 40% off.
Although a grill pan may not impart the same smoky flavor as an outdoor grill, charred meats aren't necessarily a good thing. According to research and government reports by the National Cancer Institute, cooking meat at a high temperature, particularly over an open flame where fat can drip and create smoke, can cause the formation of HCAs (heterocyclic amines) and PAHs (polycyclic aromatic hydrocarbons).
Studies claim these chemicals can increase the risk of cancer by causing changes in DNA. HCAs are mostly present in meats cooked at high temperatures, while PAHs are often in smoked foods, cigarette smoke and car exhaust fumes.
With that said, you can even use this grill pan on your outdoor gas grill to cook more delicate items like shrimp and veggies that tend to fall through, or fattier items that tend to drip.
If you enjoyed this story, check out these delicious breakfast parfait muffins.
More from In The Know:
Amazon shoppers swear by this eye cream for brightening dark circles — and it's 34% off right now
35+ of the very best deals to snag at Walmart this weekend
I'm a lifestyle editor, and here are 14 items I'm buying from Nordstrom this spring
FYI: The best dainty gold necklaces are on Amazon and they're super affordable
Listen to the latest episode of our pop culture podcast, We Should Talk: