Our team is dedicated to finding and telling you more about the products and deals we love. If you love them too and decide to purchase through the links below, we may receive a commission. Pricing and availability are subject to change.
The perfect faux fur blanket — one that's fluffy, soft and doesn't shed — can be hard to come by. However, Nordstrom shoppers seem to have found the one: UnHide's The Marshmallow 2.0 Medium Faux Fur Throw Blanket.
It's the perfect throw blanket for watching movies on the sofa or sharing with a friend. And it's super fluffy, hence "marshmallow" in the name. On one side, the faux fur feels as soft as a chinchilla, and on the other, it's a silky velvet.
Additionally, it weighs 9.5 pounds to offer a slightly therapeutic weight. It's not exactly a weighted blanket, but it's heavy enough to help you feel more relaxed. (Note: Most weighted blanket brands recommend a blanket weighing 10% of your body weight for the most calming effect.)
And finally, it's quite large. At 80 inches by 60 inches, it's more of an oversized throw blanket. No one's feet will be left hanging out at the bottom!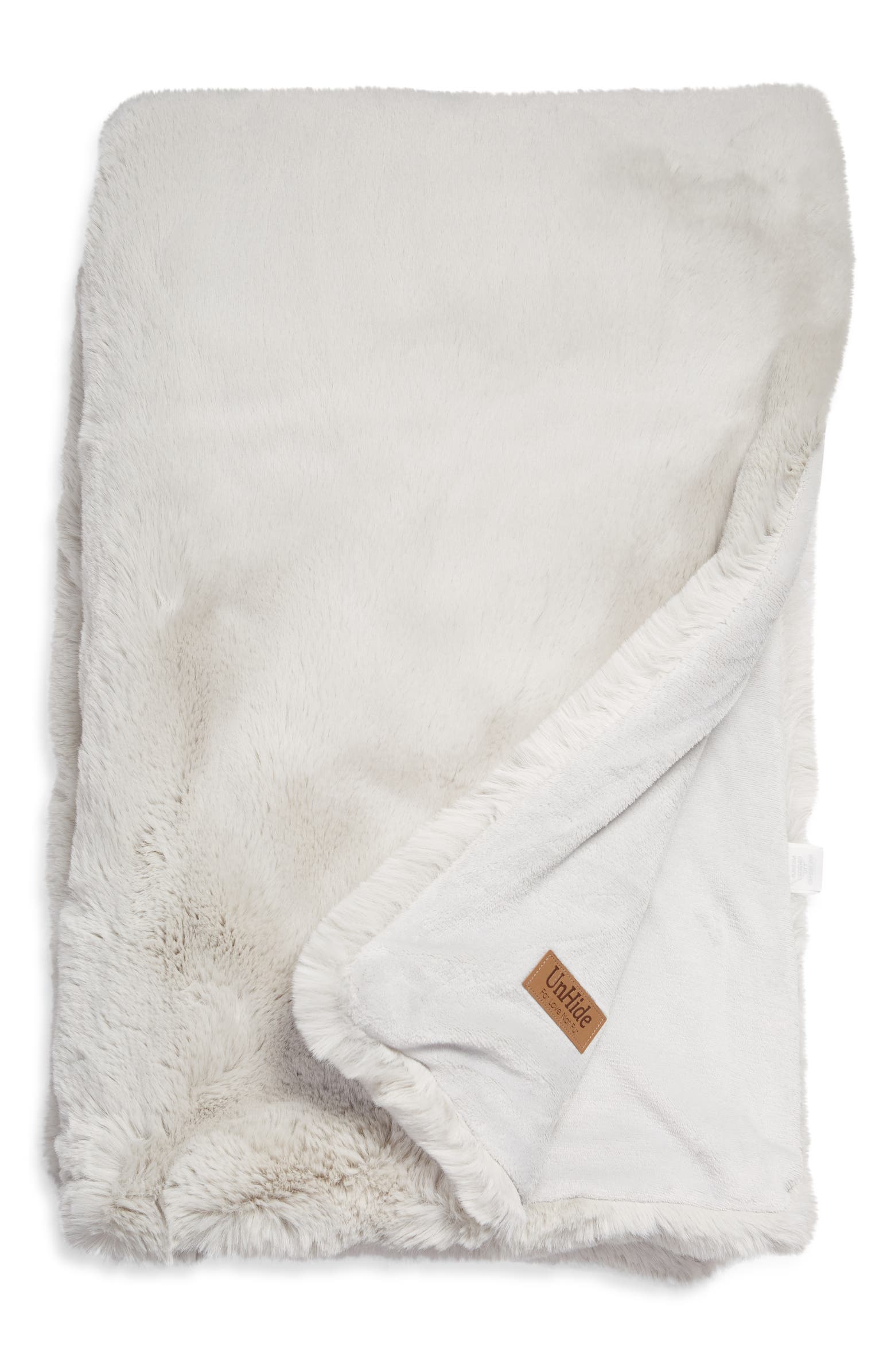 Nordstrom shoppers give it a collective 4.6 out of 5 stars, with many saying that it's "amazing" and "definitely worth it!"
"Absolutely worth every penny," wrote one Nordstrom reviewer. "The Marsh 2.0 is so much thicker and furrier than the Lil Marsh — it's almost rug-like [with] how thick and heavy it is. The size is perfect for my queen-sized bed! UnHides are the only blankets I even want to buy anymore — so far six and counting."
"I would never in a million years have guessed I would ever spend half this much on a blanket, yet here we are. It is amazing, and I want to carry it with me everywhere I go, a la Linus," wrote another shopper.
A lot of faux fur blankets are dry clean only, but you'll be glad to know that The Marshmallow Throw Blanket is actually machine washable. While the brand says you can dry it on low, some customers who gave the blanket less than five stars in the reviews recommended letting it air dry to prevent the dryer from melting the faux fur part. Of course, it will depend on how hot your dryer actually gets. According to UnHide, The Marshmallow is made almost entirely with recycled materials.
You can get the blanket in a range of gorgeous neutral colors at Nordstrom, including Beige Bear, Rosy Baby, Chocolate Calf, Charcoal Charlie, Silver Fox and Snow White. Yes, at $195, it is a tad expensive — it costs more than the Kardashian-favorite Barefoot Dreams blankets and more than many UGG blankets. But like reviewers said, it's worth it.
Come cold weather and lazy Sundays, you'll be glad you have The Marshmallow to curl up in.
If you liked this article, check out the novels TikTok can't stop talking about.
Special Offer for You
Nordstrom's Designer Clearance is full of incredible deals
More from In The Know:
7 pairs of designer sunglasses you should grab while they're on super sale before summer
This top-rated 'guac-lock' container from Amazon will keep guacamole fresh for up to a week
Rowing is a great workout! Here's how one former Olympian stays in shape on and off the water
The best office chair for those with neck and back pain is over $95 off on Amazon for one more day
Listen to the latest episode of our pop culture podcast, We Should Talk: