Our team is dedicated to finding and telling you more about the products and deals we love. If you love them too and decide to purchase through the links below, we may receive a commission. Pricing and availability are subject to change.
There are your standard kitchen tools — you know, knife sets, pots and pans, stand mixers and whisks. And then there are the more innovative and unique kitchen gadgets that are just so clever, you'll wonder why you didn't think of it first.
Most of the unique kitchen gadgets listed below will help keep your kitchen tidy, so you can spend less time cleaning and more time enjoying the good food you just made. However, they're also all pretty small, so they won't clutter your cabinets, either.
All around, these kitchen gadgets are simply pretty great.
This clip-on strainer will save you time and effort. Instead of pouring your food into a strainer to drain the water, you can clip this strainer onto any pot or pan and directly drain the water from there. It's small, so you can store it anywhere. Plus, it's food-grade silicone, so it's nonstick and super easy to clean.
If you want to cut through even the thickest of crusts and layers of toppings without tearing your pizza apart, these Pizza Scizzas are the way to go. Pizza-slicing wheels scratch your pans and are often covered in stuck-on cheese. But a Pizza Scizza, aka pizza-cutting scissors, can slice oven-hot pizza into clean, even slices — no cheese dripping or toppings sliding off the top.
Scrape every last bit from the sides of your blender with this specialty spatula. It's long and skinny, so you can reach all the way to the bottom without getting your hands dirty or getting nicked by the blades.
This unique cutting board folds, so you can easily (and neatly) guide your chopped produce into whatever you're cooking. Fewer spills for the win! Get it in red or black at Sur La Table.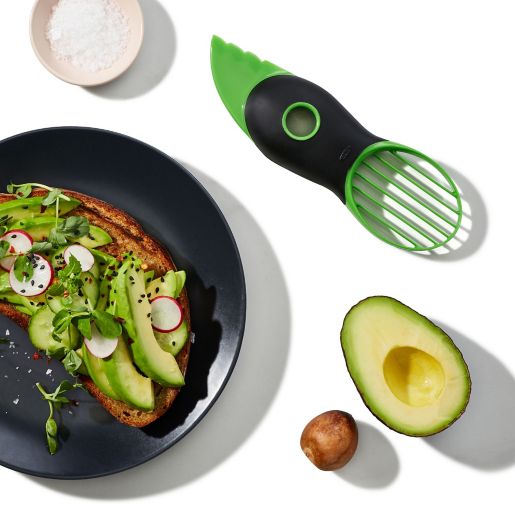 This tool is made for avocado lovers. Use it to cut open an avocado, safely pull out the pit, slice the delicious green part and remove the skin. You can do it all with this tool!
When you're cooking, you need a spot to hold your spoon, especially if it's covered in sauce. These Fox Run silicone pot clip spoon rests hold your spoon over whatever you're cooking, so the leftover sauce can drip right back into the dish. There's less mess and less cleanup than when you use a regular spoon rest. Get a set of two — an owl and a cat or a chicken and a pig — for less than $10.
The Frywall is a splatter guard for frying foods, and you may have seen it on Shark Tank. However, instead of covering the pan, it creates a barrier around it, so you can keep stirring or flipping your food while the guard is on. When you're done using it, you can wash it in the dishwasher and roll it up to store away.
If you liked this article, check out these five affordable knife sets on Amazon.
More from In The Know:
These No. 1 best-selling pillows are on sale on Amazon: 'I slept so good that I didn't hear the baby crying'
These under-$10 biker shorts have over 18,000 ratings on Amazon: 'Best ones I've found'
Lingerie brand CUUP just launched swimwear, and it's so good
The 9 best men's pajamas that'll keep you cool, even for the sweatiest of hot sleepers
Listen to the latest episode of our pop culture podcast, We Should Talk: